scenario_structure_bsp
Edit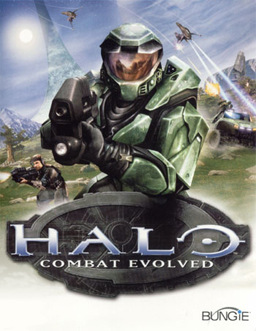 The scenario structure BSP tag, commonly just called the BSP, contains level geometry, weather data, material assignments, AI pathfinding information, lightmaps, and other data structures. You can think of the BSP as the "stage" where the game takes place objects are placed within it. Aside from sounds and bitmaps, the BSP tends to be one of the largest tags in a map. Singleplayer scenarios often use multiple BSPs which are switched between at loading zones.
The term "BSP" stands for Binary Space Partitioning, a technique where space within a sealed static mesh is recursively subdivided by planes into convex leaf nodes. The resulting BSP tree can be used to efficiently answer geometric queries, such as which surfaces should be collision-tested for physics objects.
After level geometry is exported to JMS format, it can be compiled into a BSP tag using Tool's structure verb.
While a scenario can reference multiple BSPs, Halo can only have a single BSP loaded at a time. Transitions between BSPs can be scripted (switch_bsp), e.g. using trigger volumes. Objects in unloaded BSPs are not simulated.
Although multiple BSPs are intended for singleplayer maps and do not synchronize, some custom multiplayer maps have used nearly identical BSPs which only differ in lighting to add a day/night switch scripted by a button in the escape menu.
The most commonly used shader type for BSPs is shader_environment, suitable for most opaque surfaces and alpha-tested grates or billboard trees (as in Timberland). This shader type supports the blending between multiple detail maps, often used for ground maps with dirt and grass areas.
Transparent shaders can also be used, for example:
The shader_model type will not be rendered by the game since it is intended for use with object models.
Clusters are sealed volumes of a BSP separated by portal planes. They are used both as a rendering optimization and artistically; map authors can assign weather_particle_system, wind, sound_environment, and sound_looping tags to define local atmospheric and ambience qualities for each section of the map. Different clusters can even reference different skies. The level will contain a single large cluster if no portals were created.
Note that it may still be desirable to reference weather for indoor clusters if there are outdoor areas visible from them, otherwise snow and rain particles will abruptly disappear. To mask weather in such clusters, use weather polyhedra.
Clusters are either outdoor/exterior or indoor/interior. When a cluster contains +sky faces it is an outdoor cluster and has a sky index of 0 or greater. Furthermore, any cluster from which an outdoor cluster is potentially visible will also be an outdoor cluster.
An indoor cluster is one where none of its potentially visible clusters are outdoor. These clusters have a sky index of -1 instead and use the indoor parameters of sky index 0 (the first sky), which always has the special role of doubling as the "indoor sky". For example, indoor clusters will use use its indoor fog color rather than its outdoor fog color.
When the game transitions between indoor and outdoor clusters the fog colour fades based on cumulative camera movement, not time. This effect can be seen easily in Danger Canyon: load it in Sapien and fly the camera through the hallways while debug_pvs 1 and rasterizer_wireframe 1 are enabled.
The potentially visible set data (PVS) is precomputed when a BSP is compiled and helps the engine determine which clusters are visible from each other. A cluster can "see" any other cluster behind portals visible from itself plus one level of clusters further. Any clusters beyond that will not be rendered.
Tool also takes into account the indoor sky's indoor fog opaque distance and indoor fog maximum density when computing the PVS. If the density is 1.0 (fully opaque) then Tool knows that indoor clusters cannot see beyond the opaque distance even if there are clusters within a line of sight. Tool logs the indoor maximum world units when the BSP is compiled (if there a sky referenced).
Areas of a map which need a fog layer can be marked using fog planes. These are 2D surfaces which reference fog tags, not to be confused with atmospheric fog which is part of the sky tag. It is invalid for a cluster to be able to see multiple fog planes (see more).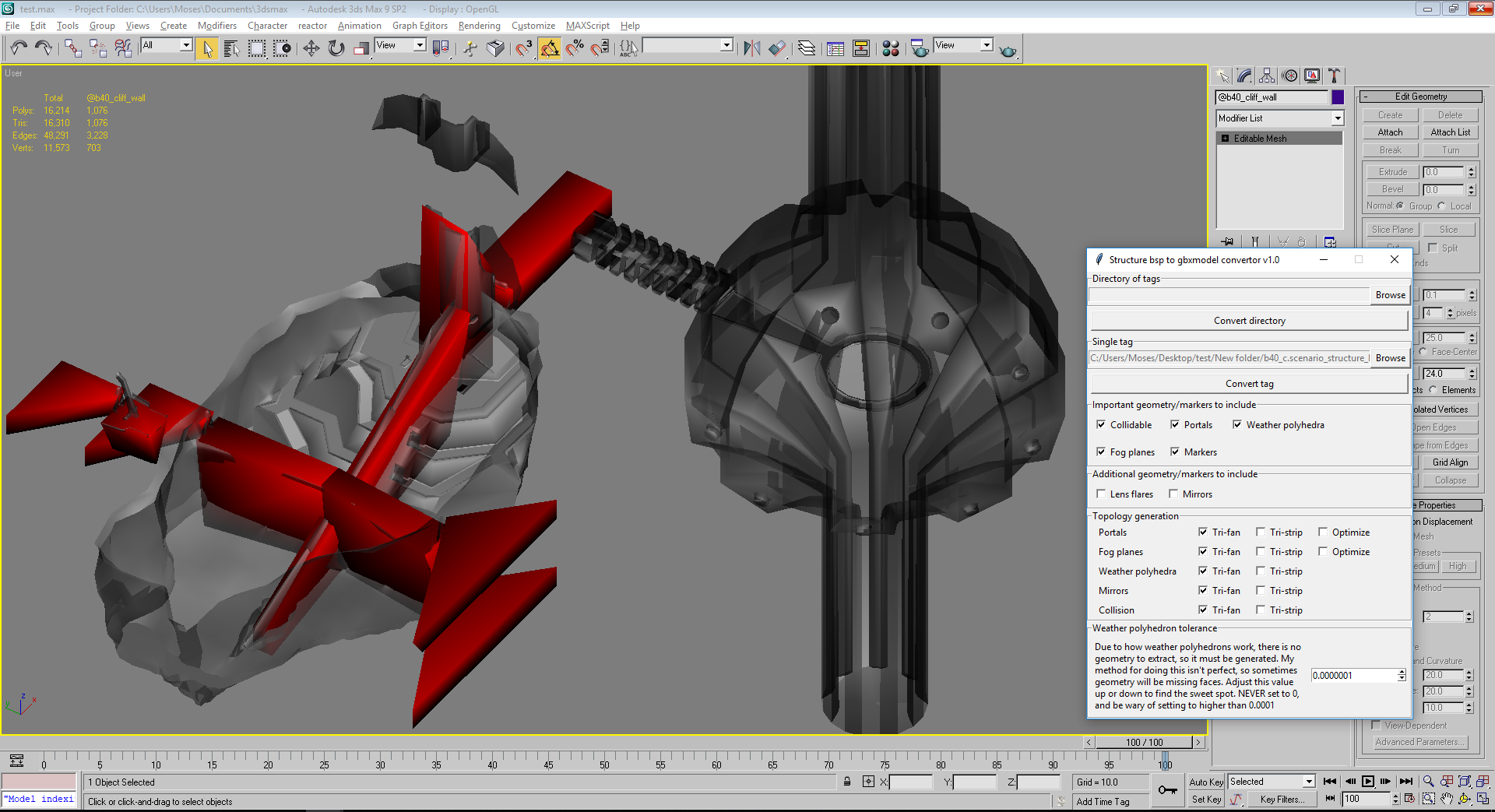 Weather polyhedra are simple convex volumes where weather particles will not render. They can be used to mask rain or snow from under overhangs, doorways, and indoor spaces when the cluster has weather.
When a JMS is compiled to BSP by tool, connected convex faces with the material name +weatherpoly will generate weather polyhedra. Within the tag, the polyhedra are represented as a center point, bounding radius, and up to 16 planes which enclose a volume.
The game can only support a maximum of 8 visible weather polyhedra. Beyond this point, some polyhedra will be ignored and Sapien will print warnings.
Lightmaps are the visual representation of the BSP, and are stored in a separate representation from its collision data. The lightmaps data includes the renderable triangles and a precalculated radiosity bitmap.
See main page: Lightmaps.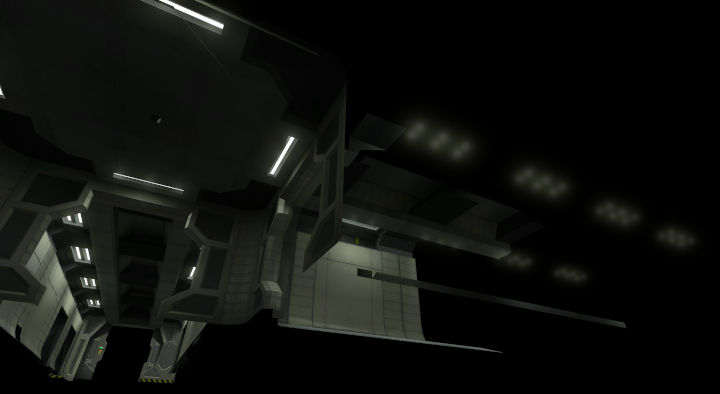 When a shader_environment references a lens_flare, lens flare markers are automatically created and stored in the BSP tag during initial structure compilation or updated with structure-lens-flares. These are used to give lights a "glowy" appearance. If the shader has a lens flare spacing of 0, a single lens flare is placed on the surface(how?). Otherwise, the lens flares are evenly spaced within the surface according to the spacing value (world units).
A BSP can contain up to 65535 lens flare markers, and up to 256 types of lens flares. However, there is a much lower limit to how many the game will draw at a given time, exactly how many is unknown.
Phantom BSP is a collision artifact sometimes produced when compiling BSPs. It manifests itself as invisible surfaces which projectiles and vehicles collide with (but not players), and mostly appears around sharp corners near cases of "nearly coplanar faces" warnings in your WRL file.
Bungie was aware of this artifact and implemented a feature to help spot it (collision_debug_phantom_bsp 1 in Sapien or standalone). If you find phantom BSP in your map, there are a few steps you can take to resolve it:
Preemptively, keep your geometry simple and robust without an abundance of dense, complex, or spiky shapes. Flat surfaces like floors and walls should be kept as flat as possible by using alignment tools when modeling rather than "eyeballing it".
Fix any "nearly coplanar" warnings in your source model by scaling affected faces to 0 along their normal axis or using alignment. Since Tool slightly rounds vertex coordinates when compiling BSPs, sometimes this warning cannot be resolved for surfaces which are not axis-aligned.
There is an element of chance to phantom BSP appearing which depends on how your geometry is recursively subdivided form a BSP tree. Modifying unrelated parts of your level like adding portals or moving vertices can sometimes affect how the level is subdivided and make phantom BSP disappear.
Using phantom_tool or H1A Tool's fix-phantom-bsp option to compile your BSP will prevent phantom BSP at the cost of slightly increasing the tag size.
If you do not have access to source JMS, and are trying to fix a BSP tag, the tool Ghostbuster may fix it but has known issues.
On a technical level, cases of phantom BSP are dividing planes where a child index is -1, but the space on that side of the plane is not actually completely outside the level. The artifact is bounded by all parent dividing planes.
BSP holes or leaks are another type of collision artifact where items or players can fall through the map. It is not known what causes this, but it can be resolved by altering triangulation around the affected area (rotating edges). Compiling the BSP with phantom_tool or H1A Tool's fix-phantom-bsp option also prevents this.
The BSP contains data on traversable surfaces which aid AI in pathfinding (walking to a destination). This data is generated automatically during BSP compilation and is retained even in when the BSP is compiled into multiplayer maps.
See more about the pathfinding system.
The following are related functions that you can use in your scenario scripts and/or debug globals that you can enter into the developer console for troubleshooting.
Function/global

(

collision_debug

 

[boolean]

)

If enabled, the center of the view is used to test for collisions. A red normal-aligned marker will be shown where the ray from the center of view collides with a surface. The collision surface itself, whether BSP or model, will be outline in red. Information about the collision surface will be shown in the top left corner of the screen, including plane and surface indices from the BSP structure, material type, and how many degrees the surface's normal differs from vertical.

The types of surfaces which the test ray hits or ignores can be toggled with the collision_debug_flag_* commands. The maximum range of the ray is controlled with collision_debug_length.

(

collision_debug_features

 

[boolean]

)

Toggles the display of collision features near the camera, which can be spheres (red), cylinders (blue), or prisms (green). Collision size can be adjusted with collision_debug_width and collision_debug_height. The test point can be frozen in place using collision_debug_repeat.

(

collision_debug_flag_structure

 

[boolean]

)

Toggles if collision debug rays collide with the structure BSP. Collisions with model_collision_geometry BSPs are unaffected.

(

collision_debug_phantom_bsp

 

[boolean]

)

Causes a floating pink cube and label "phantom bsp" to appear whenever a test ray from the center of the screen intersects with phantom BSP. It can be helpful to pair this with collision_debug_spray.

(

collision_debug_spray

 

[boolean]

)

Setting this to true will cause collision ray tests to be performed in a dense grid from the viewport. This operates independently of the collision_debug setting, and only the destination hit markers are shown. Can be affected by collision flags, length, and frozen with collision_debug_repeat.

(

debug_bsp

 

[boolean]

)

Toggles the display of structure BSP node traversal for the camera location. At each level, the node and plane indices are shown as well as a + or - symbol indicating if the camera was on the front or back side of the plane.

(

debug_camera

 

[boolean]

)

Shows debug information about the camera in the top left corner, including:

3D coordinates in world units
BSP leaf and cluster indices
Ground point coordinates and BSP surface index (point directly below the camera on the ground)
Facing direction (yaw angle)
Tag path of the shader pointed at by the camera. The surface must be collideable and this feature cannot be configured with collision debug flags.

(

debug_portals

 

[boolean]

)

Draws structure BSP portals as red outlines.

(

debug_sound_environment

 

[boolean]

)

If enabled, shows the tag path of the cluster's current sound_environment.

(

debug_structure

 

[boolean]

)

When enbled, all scenario_structure_bsp collision surfaces will be rendered with green outlines.
Field
Type
Comments
lightmaps bitmap
TagDependency: bitmap

A reference to the bitmap storing the level's baked lightmaps. The level will not be visible without this.

vehicle floor
float

The lowest Z-axis height (absolute, not frame relative) that vehicles can reach while occupied. Does not affect other object types. An unoccupied vehicle will still drop below this soft barrier, but when it becomes occupied again it will quickly shoot back up into the play area. An example of a map using a vehicle floor is Gephyrophobia to prevent players from flying too far below the bridge.

vehicle ceiling
float

The maximum Z-axis height (absolute, not frame relative) that vehicles can reach while occupied. Does not affect other objects types. Above this point, occupied vehicles will elastically move back below the ceiling. This can be used to limit the height that players in flying vehicles like Banshees can reach for gameplay reasons. An example of this can be seen in Blood Gulch.

default ambient color
ColorRGB
default distant light 0 color
ColorRGB
default distant light 0 direction
Vector3D

| Field | Type | Comments |
| --- | --- | --- |
| i | float | |
| j | float | |
| k | float | |

default distant light 1 color
ColorRGB
default distant light 1 direction
Vector3D?
default reflection tint
ColorARGB
default shadow vector
Vector3D?
default shadow color
ColorRGB
collision materials
Block

Read-only
Processed during compile

collision bsp
Block

Read-only
Processed during compile

Field
Type
Comments
bsp3d nodes
Block

A block of nodes used to efficiently find collideable surfaces. Each node divides space with an infinite plane and references two child nodes by index into this block. The first element in the block is the root node. A test point can be recursively tested against planes to find a leaf of potentially colliding surfaces.

Field
Type
Comments
plane
uint32

An index into the planes block. The plane divides 3D space into front and back half-spaces. A point can be tested against this plane to determine which half-space to descend into.

Tool will create new planes or use existing surface planes when generating the BSP tree based on a heuristic of how many surfaces remain in the node. For 1024 and above, axis-aligned planes based on vertex bounds are used. Otherwise, the surface within the remaining set whose plane minimizes the difference between front and back surface counts is used.

back child
uint32

Index of the BSP3D node representing space to the back of the dividing plane. A value of 0xFFFFFFFF is considered null and the space behind the plane is considered outside the sealed BSP (Sapien labels this as "solid" space when using debug_structure). Otherwise, if the highest order bit is set (0x80000000), the remaining 31 bits (mask 0x7FFFFFFF) represent an index into the leaves block.

front child
uint32

Similar to the back child field.

planes
Block

Planes are infinite 2D surfaces in 3D space. They are used both to subdivide the BSP in each bsp3d node and to define collideable surfaces. The first 8 planes in the block seem to serve a special purpose -- the first 4 define the XY bounding box, with the next 4 axis aligned planes unkown. Furthermore, the last 8 planes in the block are used for the first few levels of bsp3d nodes. A single plane may be referenced from multiple bsp3d nodes since the surfaces that planes derive from can also be found in multiple leaves.

Field
Type
Comments
plane
Plane3D

A plane which divides 3D space in two.

| Field | Type | Comments |
| --- | --- | --- |
| vector | Vector3D? | A 3-float normal vector. |
| w | float | Distance from origin (along normal). |

leaves
Block

Leaves mark the transition between the 3D BSP and a collection of convex collideable surfaces in the same localized area. Each set of co-planar surfaces within this leaf is stored within a child 2D BSP.

Note that surfaces may be found under multiple leaves, since any surface which is not completely on either side of a 3D plane will need to belong to both child 3D BSP nodes.

Field
Type
Comments
flags
bitfield

Flags used to optimize collision checks at runtime.

bsp2d reference count
uint16

Determines how many contiguous 2D BSP references belong to this leaf.

first bsp2d reference
uint32

Index of the first 2D BSP reference associated with this leaf. It will be followed by a number of other 2D BSP references according to the above count.

bsp2d references
Block

Represents either a 2D BSP of surfaces, or a singular surface if the node index is flagged. In either case, test points or 3D line traces should be projected onto the basis plane in order to continue.

| Field | Type | Comments |
| --- | --- | --- |
| plane | uint32 | Index for the plane used to decide what basis plane is best to project on (X,Y), (Y,Z) or (X,Z). The basis plane is chosen by the referenced plane's most significant normal component. A flagged plane index means its normal vector is opposite. |
| bsp2d node | uint32 | The starting node for the 2D BSP on this plane. If flagged, then the index (masked to 0x7FFFFFFF) refers to a surface instead. Null if 0xFFFFFFFF. |

bsp2d nodes
Block

Field
Type
Comments
plane
Plane2D

A 2D plane (line) subdividing left and right child surfaces. This line is in the space of the 2D BSP reference's basis plane.

Field
Type
Comments
vector
Vector2D

| Field | Type | Comments |
| --- | --- | --- |
| i | float | |
| j | float | |

w
float

left child
uint32

refers to a BSP2D node if not signed and a surface if sign bit is set; null if 0xFFFFFFFF.

right child
uint32

refers to a BSP2D node if not signed and a surface if sign bit is set; null if 0xFFFFFFFF.

surfaces
Block

Surfaces are planar collideable polygons. They are not necessarily triangular and may have up to 8 edges. BSP collision surfaces can be visualized in Sapien using debug_structure 1. These surfaces are not used for the rendered geometry.

Field
Type
Comments
plane
uint32

Index into the planes block for this surface's plane. Note that multiple co-planar surfaces may reference the same plane since this plane index is a copy of the parent bsp2d reference's plane index, even when flagged.

first edge
uint32
flags
bitfield

| Flag | Mask | Comments |
| --- | --- | --- |
| two sided | 0x1 | |
| invisible | 0x2 | |
| climbable | 0x4 | Indicates if the surface is a climbable ladder. |
| breakable | 0x8 | Indicates if the surface is breakable. The surface must also have a breakable surface index below.bit there cannot be more than 256 unique breakable surfaces in a BSP. |

breakable surface
int8

Index into this tag's breakable surfaces block. It is unknown if this is a signed or flagged field, but since it is 8-bit there cannot be more than 256 unique breakable surfaces in a BSP.

material
uint16

edges
Block

Edges, surfaces, and vertices form a data structure called a doubly connected edge list (DCEL), also known as a half-edge data structure. The edges and their vertices define the boundaries of the collideable surfaces within a leaf.

vertices
Block

The 3D coordinates used for edge starting and ending locations.

Field
Type
Comments
point
Point3D

| Field | Type | Comments |
| --- | --- | --- |
| x | float | |
| y | float | |
| z | float | |

first edge
uint32

nodes
Block
world bounds x
Bounds

| Field | Type | Comments |
| --- | --- | --- |
| min | float | |
| max | float | |

world bounds y
Bounds?
world bounds z
Bounds?
leaves
Block
leaf surfaces
Block
surfaces
Block
lightmaps
Block

Field
Type
Comments
bitmap
uint16
materials
Block

Read-only
Processed during compile

lens flares
Block

Lists the available lens flares used by this BSP's lens flare markers.

lens flare markers
Block

Points within the BSP where a lens flare will be rendered.

clusters
Block

Field
Type
Comments
sky
uint16

Sets which sky is visible when within this cluster. Indexes the skies block of the scenario tag, so a value of 0 would mean the first sky, 1 the second, etc. A value of -1 marks this cluster as indoor/interior for the purposes of certain sky tag fields.

Tool appears to mark clusters as indoor when there are no outdoor clusters visible from it according to the PVS. Tool validates that all sky faces in a cluster are for the same sky. For example, a cluster cannot contain both +sky0 and +sky1 materials. When a player moves between clusters with different skies, fog colour will smoothly transition by cumulative camera movement over approximately 20 world units.

fog
uint16
background sound
uint16
sound environment
uint16
weather
uint16
transition structure bsp
uint16
first decal index
uint16
decal count
uint16
predicted resources
Block

HEK max count: 1024
Cache only

subclusters
Block
first lens flare marker index
uint16
lens flare marker count
uint16
surface indices
Block

| Field | Type | Comments |
| --- | --- | --- |
| index | int32 | |

mirrors
Block
portals
Block

| Field | Type | Comments |
| --- | --- | --- |
| portal | uint16 | |

cluster data
TagDataOffset?
cluster portals
Block
breakable surfaces
Block
fog planes
Block
fog regions
Block
fog palette
Block

HEK max count: 32
Max: 65534

weather palette
Block
weather polyhedra
Block
pathfinding surfaces
Block

| Field | Type | Comments |
| --- | --- | --- |
| data | int8 | |

pathfinding edges
Block
background sound palette
Block
sound environment palette
Block
sound pas data
TagDataOffset?
markers
Block

Named points with orientation within the BSP. They are similar to gbxmodel markers but are not to be confused with scenario cutscene flags. These markers become visible in Sapien when enabling snap to markers in the tool window.

detail objects
Block
runtime decals
Block

HEK max count: 6144
Cache only

leaf map leaves
Block

Field
Type
Comments
faces
Block

Field
Type
Comments
node index
int32
vertices
Block

Field
Type
Comments
vertex
Point2D

| Field | Type | Comments |
| --- | --- | --- |
| x | float | |
| y | float | |

portal indices
Block

leaf map portals
Block
Thanks to the following individuals for their research or contributions to this topic:
Conscars (Collision BSP structure and phantom BSP research)
Galap (Researching the effect of cluster sky index on lighting)
Hari (Collision BSP compilation reversing)
Kavawuvi (Invader tag definitions)
MosesOfEgypt (Tag structure research; Research on weather polyhedra and portals)